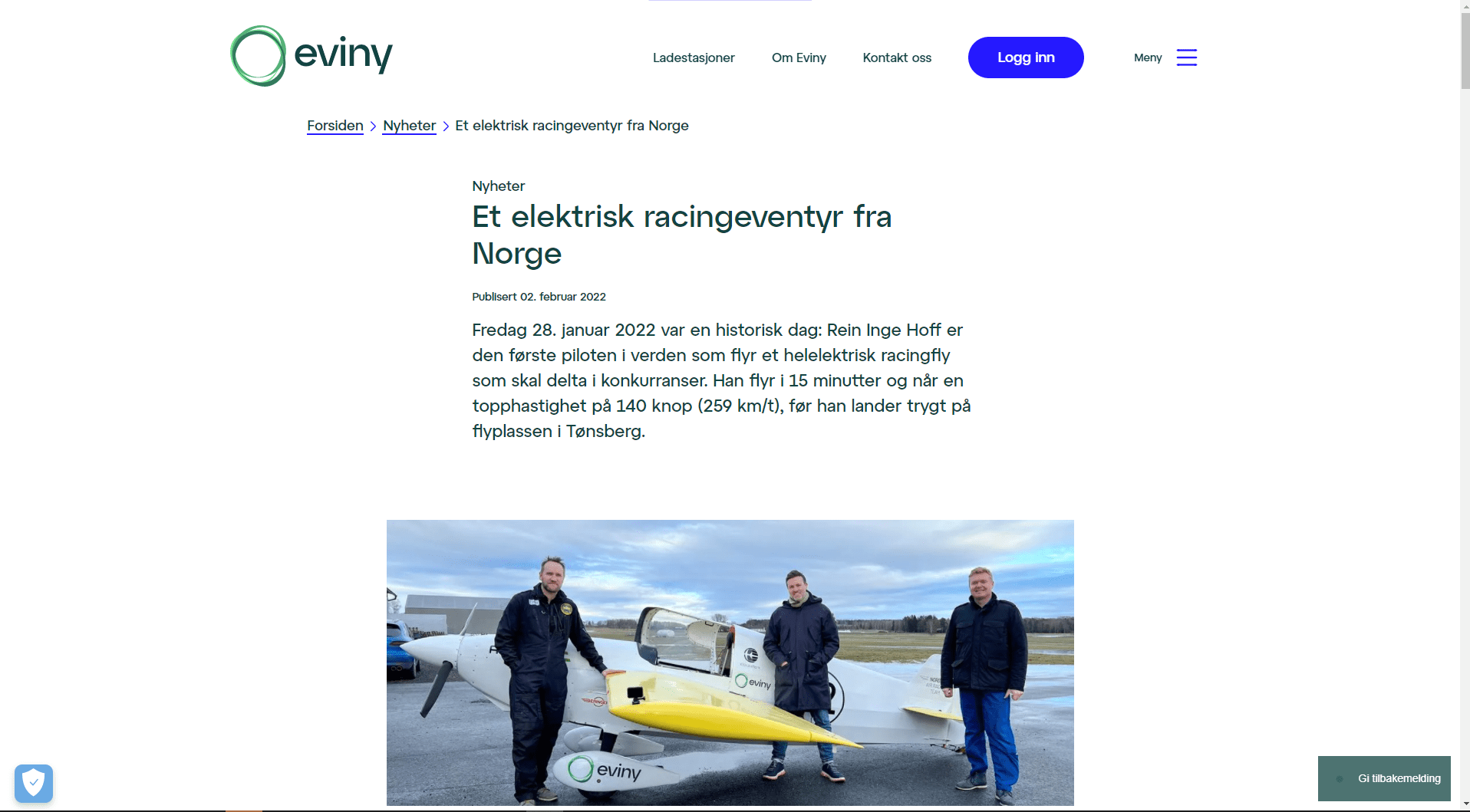 An electric racing adventure from Norway
We enjoy the company of some awesome sponsors that made this journey possible! Thank you Eviny for believing in our team at such an early stage! Look forward to the continuation.
This article is from ou main Norwegian sponsor. We appologize for it beeing in Norwegian.
Click to read the article at the Eviny web page.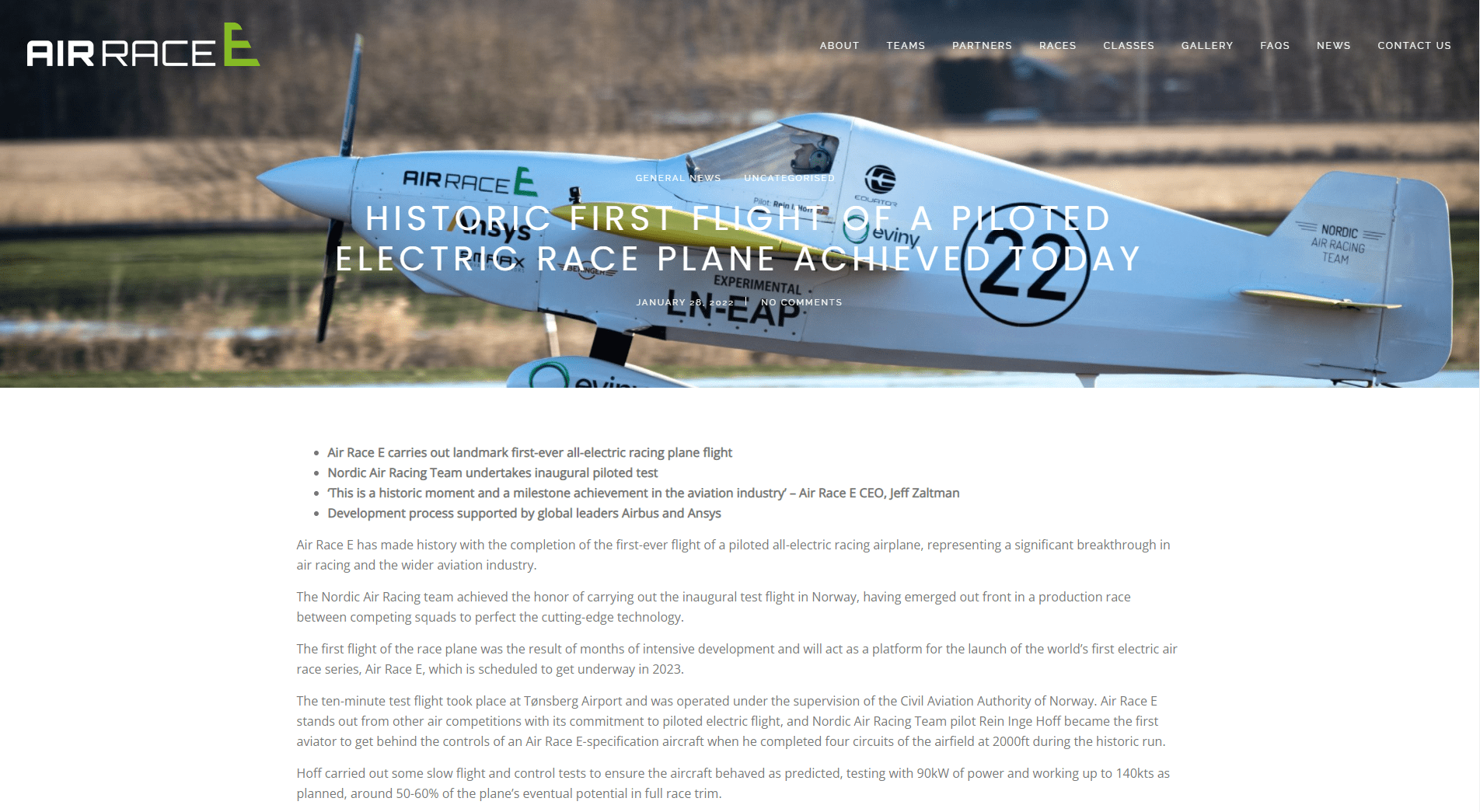 HISTORIC FIRST FLIGHT OF A PILOTED ELECTRIC RACE PLANE ACHIEVED TODAY
Air Race E carries out landmark first-ever all-electric racing plane flight
Nordic Air Racing Team undertakes inaugural piloted test
'This is a historic moment and a milestone achievement in the aviation industry' – Air Race E CEO, Jeff Zaltman
Development process supported by global leaders Airbus and Ansys
Air Race E has made history with the completion of the first-ever flight of a piloted all-electric racing airplane, representing a significant breakthrough in air racing and the wider aviation industry.
The Nordic Air Racing team achieved the honor of carrying out the inaugural test flight in Norway, having emerged out front in a production race between competing squads to perfect the cutting-edge technology.
Click the to read the full article at the Air Race E web page.
SUCCESSFUL GROUND TESTING REPRESENTS LATEST MILESTONE ON PATH TO FIRST FLIGHT
AIR RACE E AND THE NORDIC AIR RACING TEAM CONTINUE TO MAKE GOOD PROGRESS TOWARDS THE FIRST-EVER ELECTRIC RACE PLANE FLIGHT, WITH GROUND TESTING OF THE CUTTING-EDGE MACHINERY TAKING PLACE LAST WEEK.
The Norwegian squad rolled their prototype – a specifically converted Cassutt IIIM formula race plane – out of the hanger at Tønsberg Airport and performed a number of procedural exercises in a milestone moment for the team and the championship.
With Rein Inge Hoff in the cockpit, the Nordic Air Racing Team aircraft proceeded to taxi the length of the runway and reach speeds of around 60mph in the successful test.
Tomas Brødreskift, Nordic Air Racing Team Principal, said "It was awesome to finally see the racer move by its own power!
Click to read the full article at the Air Race E web page.
NORDIC AIR RACING TEAM READY TO CLAIM HONORS FOR FIRST-EVER ELECTRIC RACE PLANE FLIGHT
THE NORDIC AIR RACING TEAM WILL MAKE HISTORY BY CARRYING OUT THE FIRST-EVER ELECTRIC RACE PLANE FLIGHT IN PREPARATION FOR THE INAUGURAL SEASON OF AIR RACE E.
The Norwegian-based squad has emerged out in front after a frenetic development race between competing Air Race E outfits, with numerous teams originally looking to claim the prestigious first flight honors.
Click to read the full article at the Air Race E web page.